The term of AI is made of two words: Artificial and Intelligence
AI is the study of how human brain thinks, learn, decide, and work, when it tries to solve problems. AI presents new opportunities to supplement and complement human intelligence to enrich the life of people.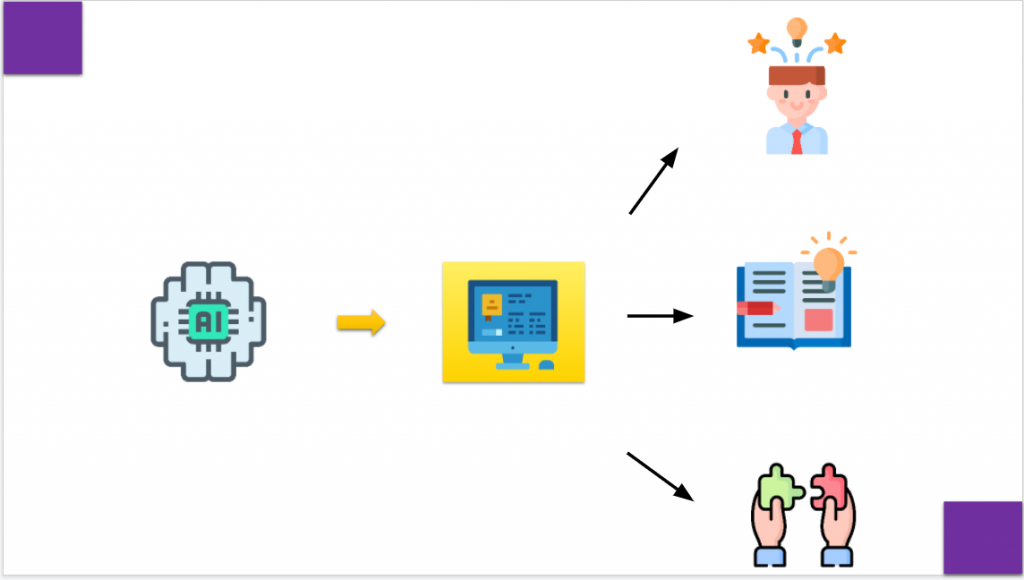 The aim of AI is to improve computer functions which are related to human knowledge, reasoning, learning, and problem-solving.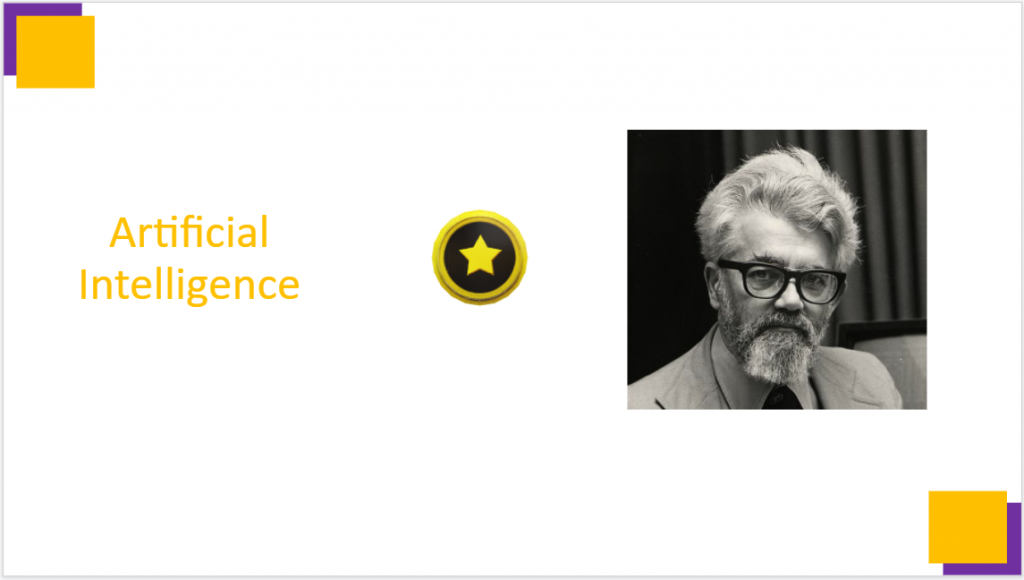 The term Artificial intelligence was coined by McCarthy in 1956 at Dartmouth Conference. Recently, Google's artificial intelligence subsidiary DeepMind developed AlphaFold2, a program which solved the protein-folding problem. This is a problem which has had baffled scientists for 50 years.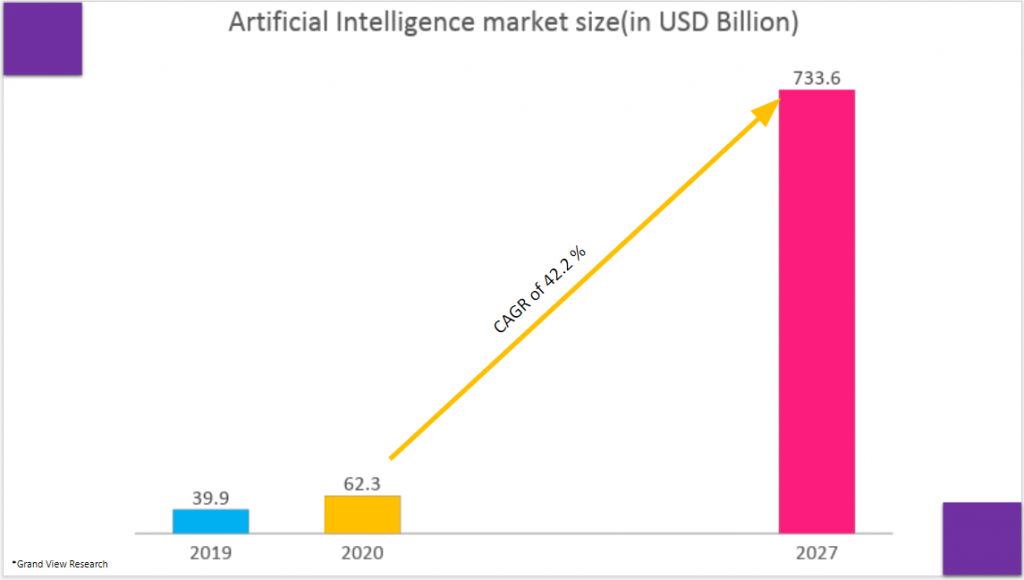 According to *Grand View Research forecasts the Artificial intelligence market to be valued at USD 39.9 billion in 2019 and is expected to grow at a compound annual growth rate (CAGR) of 42.2% from 2020 to 2027. The continuous research and innovation directed by the tech giants are driving the adoption of advanced technologies in industry verticals, such as automotive, healthcare, retail, finance, and manufacturing.
AI is revolutionizing various industries and its presence in different industry verticals is growing day by day. Let's witness its impact in different sectors: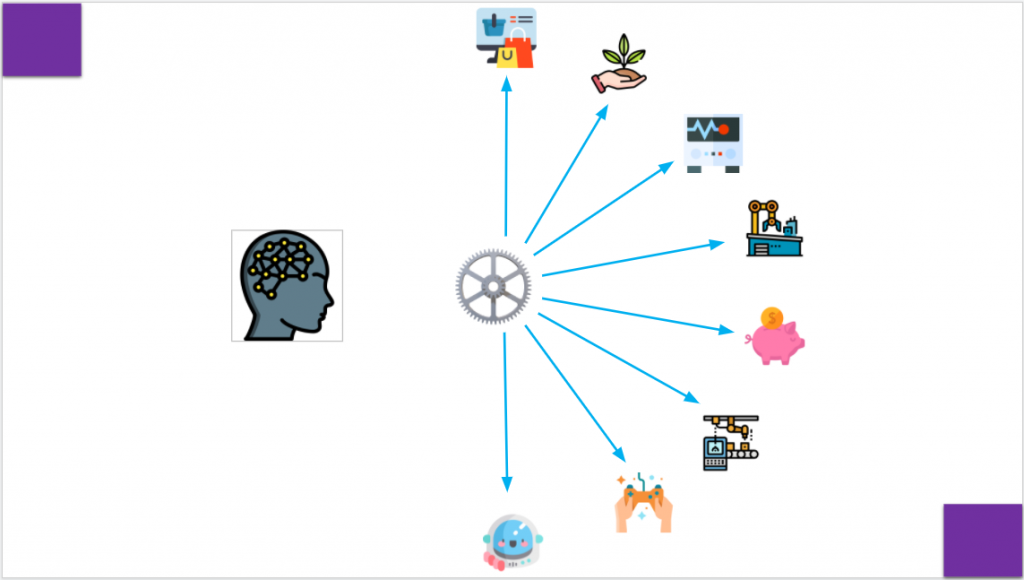 Artificial Intelligence is widely used for product recommendations on E-commerce websites. According to McKinsey reports, 75% of user content on Netflix and on Amazon 35% of user buying come from recommendations. After implementing a recommender system, Amazon reported 29% increase in sales. embedding a system of personalized recommendations into online stores can not only boost sales but also increases customer satisfaction and retention level, so that a user will return to the online store again and again.
Agriculture is one of the most fertile field for Artificial Intelligence . Spending on AI technologies and solutions alone in Agriculture is predicted to grow from $1 billion in 2020 to $4 billion in 2026, attaining a Compound Annual Growth Rate (CAGR) of 25.5%, according to Markets&Markets. IoT-enabled Agricultural (IoTAg) monitoring is smart, fastest-growing technology segment projected to reach $4.5 billion by 2025, according to PwC report.
The global AI healthcare market size is expected to grow from USD 4.9 billion in 2020 and reach USD 45.2 billion by 2026; it is projected to grow at a CAGR of 44.9% during the forecast period. The major factors driving the artificial intelligence in healthcare market growth are the increasing volume of healthcare data and growing complexities of datasets driving the need for AI. AI and machine learning are used for automated diagnosis of specific disease, drug discovery, Robot-Assisted Surgery, Virtual Nursing Assistants and information management for both physician and patients.
Global AI in manufacturing market size stood at USD 1.82 Billion in 2019 and is projected to reach USD 9.89 Billion by 2027, exhibiting a CAGR of 24.2% during the forecast period. Ways to use AI in Manufacturing are, Quality checks, Faster Maintenance, More Reliable Design, Reduced Environmental Impact, Harnessing Useful Data, Supply chain Communication, waste Cutting, Integration, Improved customer service, Post-production support.
The Banking and Financial Services industry is undergoing a massive change where human agents are being replaced by intelligent software robots for processing loan applications in fractions of a second, Robo-financial advisors are taking place of investment agents and advisers which analyze multiple levels of data in split seconds to recommend the right investment decisions for investors, AI-based chatbots are being deployed in the Insurance sector to improve the customer experience and create insurance plans and products based on customers' data.
AI is doing wonders in Supply chain and logistic management by ensuring smarter planning and efficient management to enhance worker and material safety. AI has the ability to handle mass of data, AI ridden tools can prove to be highly effective in inventory management. These intelligent systems can analyze and interpret huge chunks of datasets quickly and effectively and help in forecasting supply and demand.
AI is making its entry in Entertainment and Gaming industry, with the help of AI, program producers and broadcasters identify relevant recommendations for shows or programs to individual users based on their activity. It helps users at Netflix and Amazon in picking up shows based on their activity and interest.
Advances in AI have allowed us to make progress in all kinds of disciplines which are not limited to applications on this planet. AI is expanding itself in the field of space exploration , An AI assistant called Cimon was flown to the international space station (ISS) in December 2019, where it is being tested for three years. It was designed to assist astronauts. NASA is also developing a companion for astronauts called Robonaut, to work alongside the astronauts in doing tasks that are too risky for them.
In addition to these applications AI is determining what posts might be shown to its users by considering likes and follow of Twitter and Facebook for more exploration. Applications of AI in Marketing can deliver highly targeted and personalized ads with the help of behavioral analysis, pattern recognition, etc. It also helps with retargeting audiences at the right time to ensure better results and reduced feelings of distrust and annoyance. Chatbots powered by AI, Natural Language Processing, Natural Language Generation, and Natural Language Understanding can analyze the user's language and respond in the ways humans do. AI is heavily used by Ola ,Uber and many logistics companies for improving operational efficiency, for analyzing road traffic, and optimizing routes.
Three major types of Artificial Intelligence are: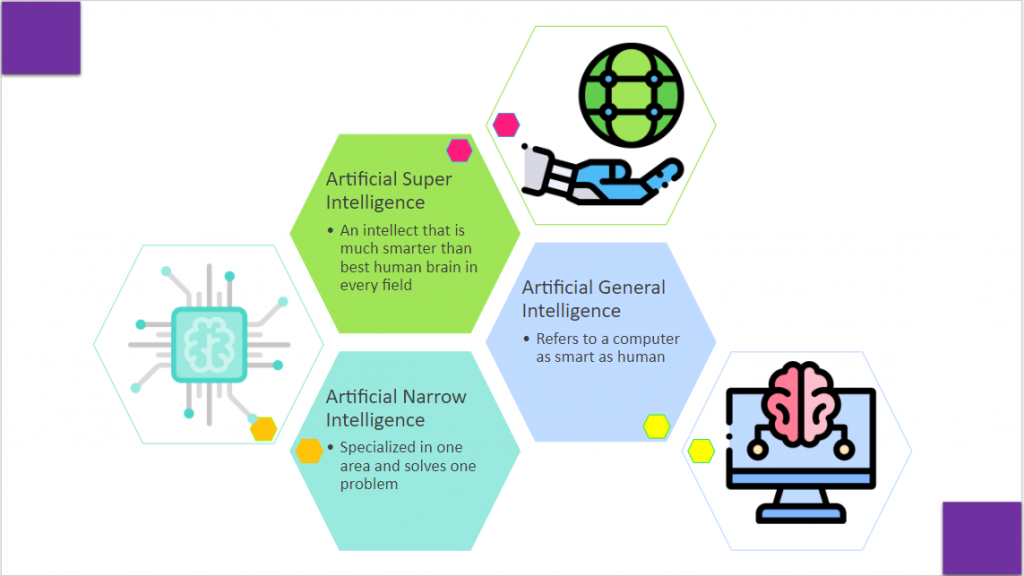 Artificial Narrow Intelligence or Weak AI is specialized in one area and solves a specific problem, it is goal-oriented and designed to perform singular tasks . Major growth of AI has happened in this domain. The examples of ANI are Google Responsive Search, Siri by Apple, Alexa by Amazon, Cortana by Microsoft and other virtual assistants like IBM's Watson, Image / facial recognition software, Disease mapping and prediction tools, drone robots, Email spam filters / social media monitoring tools for dangerous content, Entertainment or marketing content recommendations based on user behaviour Self-driving cars
Artificial general intelligence (AGI), also referred to as strong AI or deep AI, is a concept where machine mimics human intelligence and behaviors to solve problem of any kind This type of intelligence is not achieved till yet. To incorporate artificial General Intelligence in machines, we need conscious machines with full set of cognitive abilities
Artificial super intelligence (ASI), is the hypothetical AI that doesn't just mimic or understand human intelligence and behaviour; ASI is where machines become self-aware and surpass the capacity of human intelligence and ability. ASI would have a greater memory, faster ability to process data and stimuli, better decision-making and problem solving capabilities than that of human beings.
Such technologies have enormous potential and huge power to transform the face of machines in the future, however they are bringing multiple unknown consequences. If the researcher will be able to create conscious and self aware AI, then these machines will be competitive for self- preservation, that will impact humanity and our survival.