The areas associated with AI are as follows:
Robotics
Computer Vision
Machine Learning
Robotics Process Automation
Natural Language Processing
Areas associated with AI are not separate from each other-as robotics utilises computer vision in combination with electronic components, whereas robotics process automation can utilize natural language processing for customer service chatbots.
Robotics: It the field of AI which deals with designing and creating intelligent human like machines. These artificial agents manipulate the objects by perceiving, picking, moving, modifying the physical properties of object. They help and assist humans by doing repetitive functions without getting bored, distracted, or exhausted.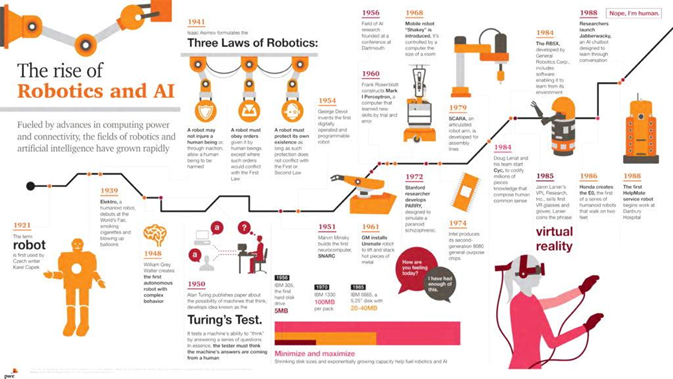 Robotics applications are enormous , drilling, packaging, material cutting, welding, color coating, polishing, military operations, for complex medical operations(surgeries), artificial limbs implantation, entertainment, space exploration, autonomous drones. This field make use of many engineering fields as electrical, mechanical , computer science, electronics, civil engineering.
Computer Vision: Computer vision comprises of two words, one is Computer another is Vision.

"Vision is the act of knowing what is where by looking"

by Aristotle.
Computer Vision emphasises on the relationship between 3D world and its corresponding 2D image. It stresses upon the location and identity of objects. Many close fields of computer vision are Image processing, Photogrammetry, Artificial Intelligence, and Robotics.
Application Domains of Computer Vision are Agriculture , Autonomous vehicles, Biometrics, Character recognition, Forensics, security, and surveillance, Industrial quality inspection, Face recognition, Gesture analysis, Geoscience, Medical imagery, Pollution monitoring, Process control, Remote sensing, Transport. Due to increase of mobile mounted cameras, surveillance systems(Images and movies), computer vision has fast growing collection of useful applications in many domains.
Machine Learning: As a child learns by examples or seeing and tagging names of things, similarly machine learns by seeing/ understanding several examples. A innocent child need a few examples to learn something whereas a machine needs many more to get an idea. ML is the subfield of Artificial Intelligence.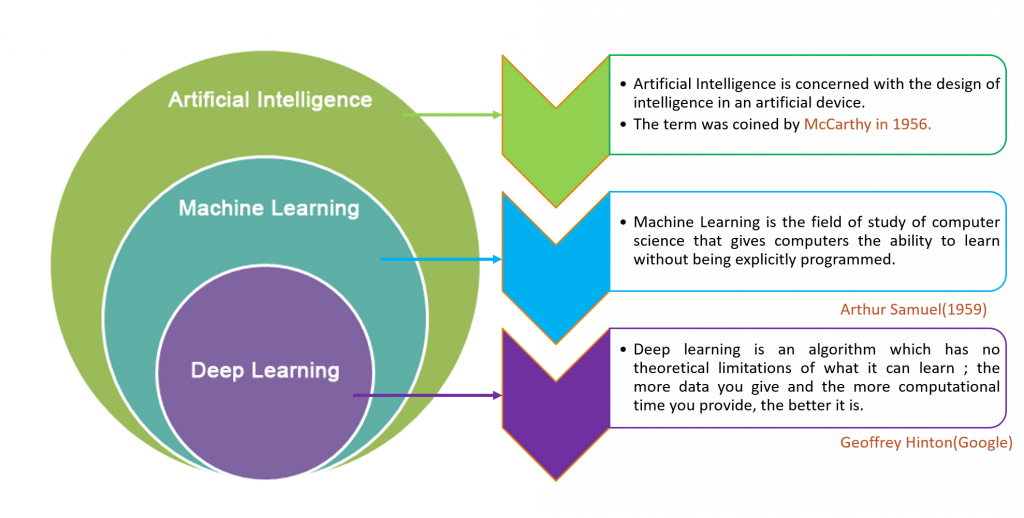 Robotics Process Automation: Robotic Process Automation does not involve any form of physical robots. It utilizes software robots which interact with software applications alike humans. These software robots work more accurately and quickly than humans. This combination of human-like interactions and software-like efficiency make robotic process automation an ideal technology for integrating systems and automating processes.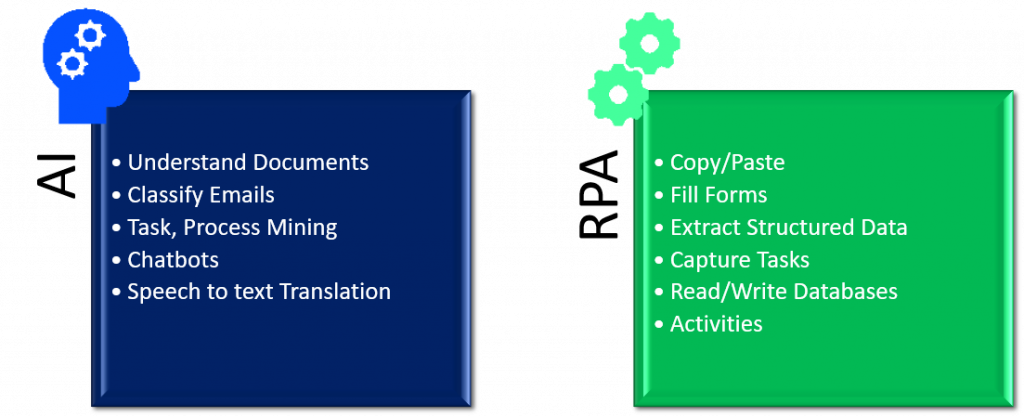 Natural Language Processing: The applications of NLP are infinite. With the help of NLP and ML a large amount of unstructured text data like social media comments, customer support tickets, online reviews, news reports, and more can be analysed and understood by machines. Despite many applications, one of the challenge of NLP is Ambiguity. Human language is very ambiguous for example-"I saw a bat", Here word 'bat has multiple meanings.